Northeast Ohio's 3 Generations of Septic Experts 
Your licensed and registered septic experts since 1967. All Town & Country Septic Tank Service has grown over the years by offering friendly, professional analysis and fair solutions. We pride ourselves on our commitment to customer satisfaction. Happy customers become loyal customers. Septic systems need to be maintained over the years and you need a company you can count on!
Call Us Today! 330.745.2277
Inspections:  All Town & Country Septic Tank Service through Summit County is certified to inspect your septic system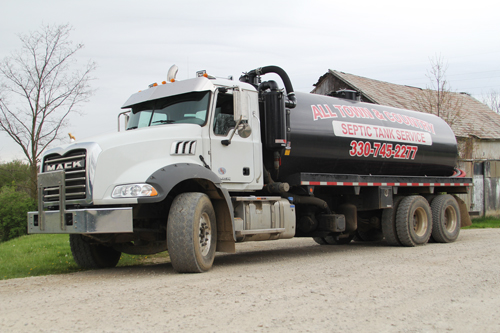 Contact North East Ohio's Septic Experts Today!
Our friendly and professional staff are ready to serve you. We'll dispatch our experienced technicians to service or access your septic situation. All Town & Country will only advise what you need. "We Never Over Sell". You can feel comfortable and assured the work will be completed professionally by our trained technicians.
Ohio Septic Systems Regulations Experts
Registered septic inspectors, All Town & Country, works with the Ohio Local health districts in conjunction with the state Environmental Protection Agency (EPA). The authorities tightly regulate the licensing of septic companies. The process of keeping your sewage treatment operational does not have to be complicated. When you work with All Town & Country, we handle the paperwork for you. We are licensed in Ohio and six counties including Summit, Wayne, Stark, Medina and Portage. We have the understanding to help you keep your operation and maintenance plan up to date and legal.
Septic Tank and Services
A septic tank is an underground chamber outside your home. These can be made of concrete, fiberglass, or plastic through which your wastewater (sewage) flows for basic treatment. Simply a settling process and anaerobic processes reduce solids and organics. This prepares the wastewater to be reintroduced to the earth safely. The sludge will need to be pumped every year or so based on usage. The technology of residential sewage treatment has changed dramatically over the years. Improvements to assure cleaner water have been made. There are strict regulations by state and local authorities to assure systems are working properly. The professionals with All Town & Country are registered as a septic hauler, service provider and septic inspector!
Septic Field Installation
All Town & Country Septic Tank Service assures your drain fields, also called leach fields or leach drains are working properly. Subsurface wastewater disposal facilities used to remove contaminants and impurities from the liquid that emerges after anaerobic digestion in a septic tank. Organic materials in the liquid are catabolized by a microbial ecosystem. A septic drain field, a septic tank, and associated piping compose a septic system. Only allow certified licensed professionals to maintain your septic system. When problems arise call the wastewater specialists at All Town & Country Septic Services. We pride ourselves on system repair before suggesting replacement. learn more
Aerator Treatment Systems
Aerobic systems include an aerator motor to supply oxygen directly into the tank. This process allows good bacteria to flourish as well as agitating the water helps break down larger waste particles.  All Town & Country Septic Tank Service will create a maintenance schedule to assure your aeration system is functioning properly. We can repair and restore aeration motors, provide trenching services for your system or a full system installation. It's important to provide necessary maintenance and repairs to keep your system from failing. Routine inspections will help prevent costly repairs and citations from municipalities.
Septic Service and Maintenance Contracts
All Town and Country Septic offers  residential sewage system operation & maintenance. A residential septic tank system differs from a municipal sewer system in that the homeowner is directly responsible for the septic system maintenance. Septic system maintenance includes having the system routinely inspected, adjusted and pumped, as necessary, to prevent odors and costly system repairs. Regular, preventative maintenance will help diagnose potential problems to avoid filter clogs, motors not running, and overflows. Catching problems early can help save money and avoid serious issues.
Home Septic Systems
All Town & Country Septic Services professionals offer a variety of services including septic tank pumping, aeration repair and maintenance, registered septic inspections and septic system installation and repair. If it is new construction or a century home the experts at All Town & Country Septic will offer you qualified solutions. 
Ask about our multiple neighbor and senior discounts. We accept cash, checks and all major credit cards.